Would your team like to do something fun together?
Does your team need some new inspiration?
Come and join me in a creative teambuilding workshop!


a painting workshop for beginners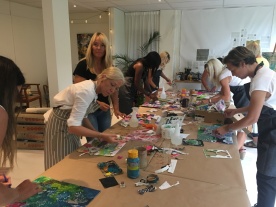 I believe that we all have a well of creativity and inspiration locked within us. We just have to find a key to unlock it and encourage it to flow without obstacle. When the well is unlocked, a state of flow occurs. Flow is the mental state in which a person performing an activity is fully immersed in a feeling of energized focus, full involvement, and enjoyment in the process of the activity. Flow is characterized by complete absorption in what one does. Flow has the potential to make life richer, more intense, and more meaningful.
10.00-12.00
We paint on paper, canvas boards or wood. We use techniques such as paper collage, mark making with different tools such as stamps and stencils, painting with inks and fluid acrylics.

12.00-13.00
We have a 1-2 hour break. The participants can have lunch or other activities.

13.00-15.00
We continue to have fun and finish our paintings.


You are very welcome to my big studio in Danderyd. I have space for up to 12 people being creative at the same time.

I can also come to a place of your choice - an ordinary meeting room will be good enough.

All material
A final painting to hang in the office.

If you have any questions regarding the workshop or would like to book please contact me here.