I am so excited!!

It is only 3 days left until I open the registration to my next art journaling e-course Book of Flow.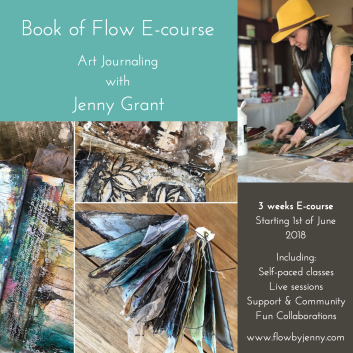 I will bring you into my art journaling world and you will come along on a fun and funky journey. I will show you step-by-step how I do my art journals and show you all my favourite art supplies and tricks. I will do a couple of live sessions so that we can interact as we go (these will be recorded and possible to watch at any time!). I will also bring you out and about, journaling in different places (pre-recorded) and do some really cool collaborations with other artists.

If you want to make sure you do not miss out, please register your interest here...if you have not already done that:-) ...to make sure you get the information first.
Seats are limited!

The course is self-paced and you have 2 years access to the material.

I am opening the registration on Friday the 18th of May.
There will be an early-bird price and I will send a little gift to the first 10 signing up for the course (3 per time zone, Americas, Europe/Africa and Asia/South Pacific).

If you want to be sure to get the information on how to sign up first please register your interest here.

Seats are limited!

Please let me know if you have any questions!
I hope to see you in class and do some fun and funky art journaling together!

Love Jenny
Kristi Oveross • July 15, 2018 at 2:19:21 PM

I am an artist and teacher living in Lidingö, Stockholm for the past 9 years. I have been teaching art to children in Lidingö for the past 6 years and I would love to connect with you. Money is tight right now however in the future I would love to take one of your workshops. Please put me on a mailing list and I will join you in a course as soon as I can. I am longing for artistic connection.