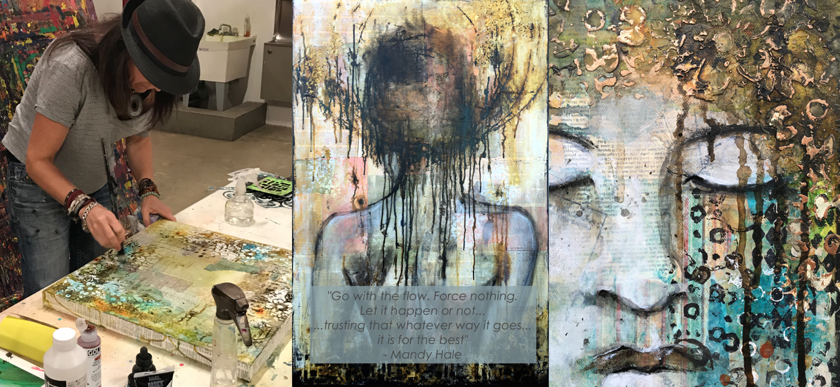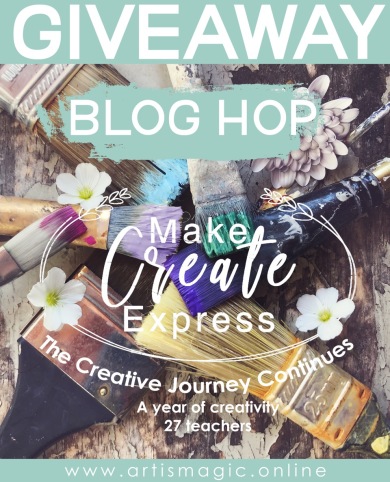 We are less than 2 weeks out from the
FREE
Make Create Express - Creative Weekend

Ignite your Creativity with this Free Creative Retreat Weekend.
☆ 27 artists share their magic from around the world.
☆ Learn new techniques & processes.
☆ Connect with your own creative spark.
☆ Make time for yourself & your creative expression.

To celebrate that there is less than 2 weeks left
I am giving away 1 spot for the full 1 year long
Make Create Express- The Creative Journey Continues
This is a year long workshop!!

--- Update! ---
The winner is: Christin Clausén

To Enter the give away:
1. Copy the URL for this post (https://www.flowbyjenny.com/2019/06/25/en/give-away-time!!!-42761916) and share it on your Facebook
2. be sure to tell me in the comments below that you have shared this post

I will announce the winner of the YEAR LONG ON-LINE CLASS on June 27

For extra entries:
• share this blog post on other social media places such as your blog, twitter, pinterest, google, or other social network platform & leave me a comment below describing where it is shared.
• Share and comment my Facebook post HERE

Good luck!!
...and don't forget to join us for the
Make Create Express- Online Creative Weekend Event
IT IS FREE!!!

To enter the rest of the give aways in the Blog hop
Join the daily giveaways by visiting the artist's blogs below on the day of their giveaway. Good luck to everyone!!

26th of June: Hali Karla, Fonda Clark Haight, Muriel Stegers
27th of June: Mariëlle Stolp, Kiala Givehand
28th of June: Connie Solera, Karine Bossé


Läs hela inlägget »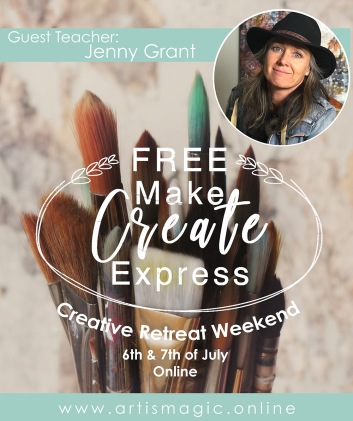 I am super excited!!!

I'm going to be one of the teachers for the

Make Create Express

workshop this year.

This is a year long creative adventure which kicks off with the Free Creative Retreat weekend. Did I mention the free weekend - free!! how awesome is that!!

27 teachers from around the world, including me, are generously offering up their creative gifts to help inspire your creative gifts!!
AMAZINGLY awesome.

Of course we want you to play with us for the whole year but make sure you join us for the free retreat- you can find all the deets here.

And please tell all your creative friends, especially those who don't yet know how wonderfully creative they are. It's going to be a creative lovefest of inspiration!!!
And did I mention its FREE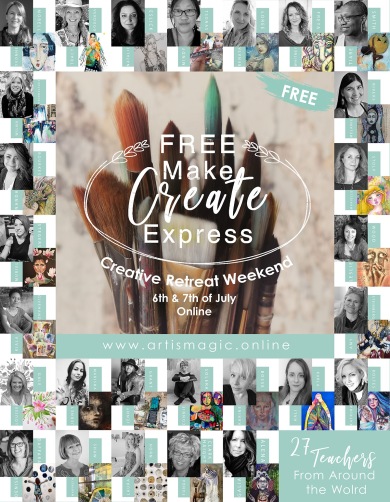 Läs hela inlägget »


Registration
is now open!

Yeeeessss, I am so very very excited!!

I am now opening my in-depth art journaling e-course for registration again!!



This is what previous students said:

"Book of Flow is s great opportunity to work creating a journal that is not perfect and there is no pressure for it to be. Jenny is an excellent instructor, with detailed instructions to help you be successful in completing your book."

"I have never been so connected with my work. Thank you Jenny. You have taught me something and I don't even know what it is well it's connection. It's connection with my art place on a deeper level"

Book of Flow - the E-course.

This will be such a fun journey. 3-weeks of art journaling together in my studio, out and about and in collaborations with other artists!!
This course is something very very special!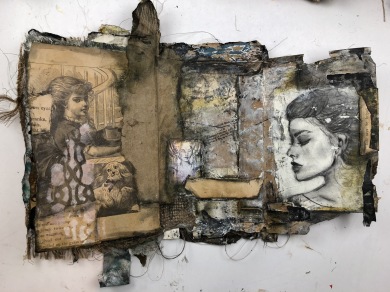 I will bring you into my art journaling world and you will come along on a fun and funky journey. I will step-by-step show you how I create my art journal and I will show you all my favourite art supplies and tricks.
We will meet in a couple of live sessions so that we can interact as we go (these will be recorded and possible to watch at any time!). I will also bring you outside my studio and show you how I use my journals on a daily basis. We will journal in different places (pre-recorded) and I will do some really cool collaborations with other artists.

Join me, register today!!
Seats are limited!


My goal is to inspire you and give you tools to be creative with no need of any particular outcome or result. The process and the time you spend creating is the purpose of the journey. The end result is just a bonus.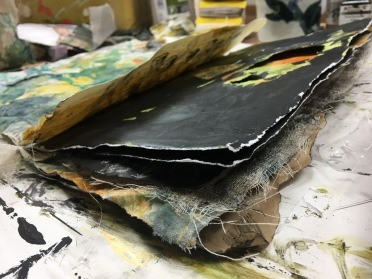 The course is self-paced and you have 2 years access to the material.

The launch of the course is the 1st of May.

The price for this in-depth course is 117US$
Seats are limited so please register now!


Please let me know if you have any questions.
You can reply to this e-mail if you want.
I hope to see you in class and do some fun and funky art journaling together!


Love Jenny
Läs hela inlägget »
Subscribe to my Newsletter