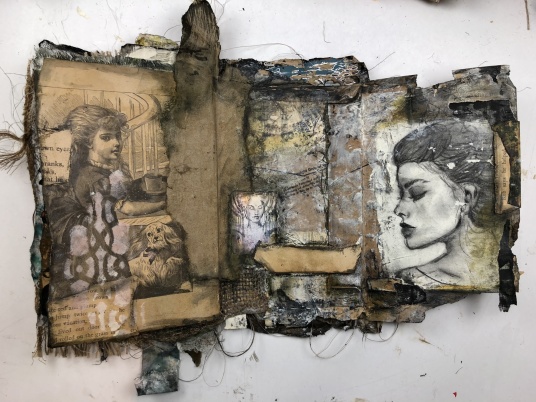 Come and join this popular and in-depth 3-week adventure in a unique Mixed Media Art Journaling e-course.
I share all my favourite art supply and techniques and guide you through the process of making your own Art Journal.
I will bring you into my Art Journaling world, in my studio as well as out and about in different places. I will art journal by the sea and on the plane and do two collaborations with some amazing artists in their studios.
I will do two live sessions where we will be able to interact.

The course is self-paced, and you have 2 years access to the content.

Seats are limited.


What will we do?
I will show you step by step how I create these magical journals.
We will work with different media on materials such as canvas, paper and fabric with acrylic paint, ink, pens and charcoal.
We will cut, glue and stitch it all together to create our Book of Flow.
We will art journal using different techniques on each page.

We will let go of our inner self-criticism with the help of simple prompts.


Who is it for?
Do you like crafting, drawing, writing and painting or love art journaling?
Do you feel that you would like to find your flow, or do you just need inspiration in your creative path?
You can be a beginner or an experienced artist. This class is for everyone!
The course is self-paced, and you have 2 years access to the content.



The class includes
Over 8 hours of content in 25 videos

Self-paced videos accessible for 2 years

Support & Community

Fun Collaborations
The price for this in-depth class is US$117
"Book of Flow is s great opportunity to work creating a journal that is not perfect and there is no pressure for it to be. Jenny is an excellent instructor, with detailed instructions to help you be successful in completing your book."

"I have never been so connected with my work. Thank you Jenny. You have taught me something and I don't even know what it is well it's connection. It's connection with my art place on a deeper level"