BRAND NEW ONLINE CLASS
with instant access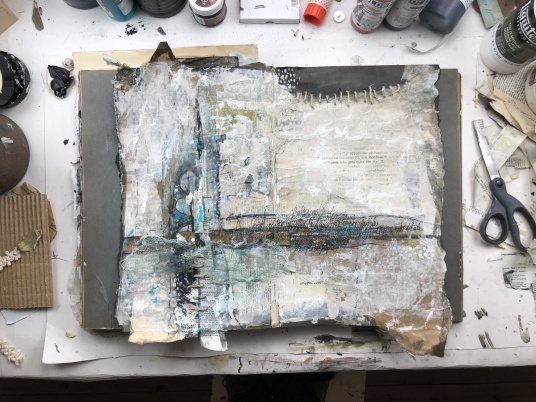 "Bye Bye Perfection - just go for a walk" is the first class out of three mini-classes that will be launched before Christmas.

Join me in this fun art journaling journey where I will create and art journal in an old coffee table book with minimal amount of supplies. The goal is to inspire you to just make art for the sake of making art. To not focus on the result and to not have any goals to create anything specific. We will just make sure that we spend time creating. Like going for a walk... you have no particular goal but to walk, feel and enjoy. You are walking because you like walking and you feel better afterwards.


What will we do?
I will show you step by step how I create a spread in my old coffee table book.
We will work with minimal amount of supplies and we will journal with no goal of any particular outcome.

We will use paper collage, acrylic paint, markers and a needle and thread.

We will let go of our inner self-criticism with the help of simple prompts.


Who is it for?
Do you like crafting, drawing, writing and painting or love art journaling?

Do you feel that you would like to find your flow, or do you just need inspiration in your creative path?

You can be a beginner or an experienced artist. This class is for everyone!



The class is including
1,5 hours of self-paced videos

Support & Community

Live session in a closed Facebook group

Access for at least 2 years
"Bye Bye Perfection - just go for a walk" is the first mini-class in a series of 3 mini-classes.
The second and third class will be released later this year.
The price is $35 only
What does old students say about my classes?
"Thank you so much for your lesson.
I learnt so much about what I am actually capable of and am loving it. Your work is so meditative and mesmerising. Everything is getting a second glance before throwing away as well:) Thank you so much! I am so grateful finding my arty groove and what makes my heart sing"

"I have never been so connected with my work. Thank you Jenny. You have taught me something and I don't even know what it is well it's connection. It's connection with my art place on a deeper level"